SA Stud Book's History
Since Robert Bakewell's pioneering work in breeding and improving pure livestock breeds in the late 18th century, purebred British livestock breeds began to gain worldwide popularity and, owing to colonisation, the practice of stud breeding became established in countries like the United States, Australia, New Zealand and South Africa.
The British occupation of the Cape Colony in 1806 was the first step towards the introduction of various British breeds to South Africa. Friesland cattle were imported from Holland as well, and by 1850 there were already some purebred Friesland cattle herds in South Africa. Stock farmers became increasingly aware of the value of purebred stock.
By the end of the 19th century, sheep and cattle breeders, in particular, began to realise that there is a mode of inheritance for traits of economic importance and that it plays a significant role in the improvement of their stock. It was also clear that this knowledge could only have advantage if credible pedigrees were maintained, contributing to their efforts at livestock improvement. Stud Book's registers and the accompanying certificates were a guarantee of animals' parentage and blood lines and reflected their superior breeding. This realisation gave direct rise to the formal recording of stud stock, and later to the establishment of breeders' societies.
The SA Agricultural Union supported the establishment of a General Stud Book for South Africa as far back as 1903, due to the need for a structured method to keep track of the pedigrees of pure bred animals of different breeds in South Africa.
On 15 Augustus 1905, the SA Stud Book Association was formally instituted during a conference of the colonial stud breeders' societies in Bloemfontein.
The first volume of the SA Studbook was issued in 1906, with entries for horses, cattle, sheep, pigs and goats. In Volume 2, published in 1907, provision was made for herds of local breeds established before 1905, and Afrikaner cattle and Boer horses were recorded in an Auxiliary studbook.
The need for breeders' societies to complement the role of the SA Stud Book Association was identified early on. This initiative gained momentum after Unification, and ultimately led to the founding of breeders' societies for Afrikaner cattle, Shorthorn cattle and Hackney horses in 1912, and South Devon cattle in 1913. Breeders' societies for other breeds followed later.
The promulgation of the Stud Book Act in 1920 (Act No. 22 of 1920) heralded a new era for the stud industry. This Act established the SA Stud Book Association and its affiliated breeders' societies as the exclusive organisation for recording and registering animals and for issuing the relevant pedigrees and registration certificates.
After the Second World War, the SA Stud Book Association's operations expanded considerably, and there was a revival in the import of pedigree livestock from abroad.
Thirty volumes of the SA Studbook were published between 1906 and 1953. After that the registrations and ownership of animals were recorded on an index card system, which was used until the late 1980s. With the advent of computerisation, the registering and recording of animals were developed into a highly sophisticated system that is recognised worldwide and is comparable with the best in the world.
The SA Stud Book Association was continuously involved in amendments to existing legislation on behalf of its breeders' societies – mainly to protect the interests of stud breeders and to keep track of developments in animal breeding practices. For example, in 1962, the Act was amended to make provision for the registration of locally developed livestock breeds, and again later on to provide for new breeding practices for domestic animals. In 1977, the Livestock Improvement Act (Act No. 25 of 1977) was promulgated.
The SA Stud Book and Animal Improvement Association became a full member of the International Committee for Animal Recording (ICAR) in September 1997. During this time SA Stud Book was, responsible for, among others, the management, development and maintenance of the livestock improvement database, Intergis, with the ARC, which contains more than 50 million animal records. SA Stud Book obtained the right to use ICAR's special "stamp of quality" on its records and publications in early 2007, after passing an inspection of its systems and procedures in 2006.
In 1998 the Livestock Improvement Act of 1977 was replaced by the Animal Improvement Act (Act No. 62 of 1998). This resulted in the stud industry becoming largely deregulated, and also saw seven breeders' societies breaking away from SA Stud Book between 1999 and 2004 to form their own registering authorities. For the first time the new Act also recognised species other than farm animals as 'animals', and SA Stud Book thus also became involved in the registration and recording of dogs and game.
By the time it celebrated its centennial in 2005, SA Stud Book enjoyed the support of 63 breeders' societies and some 5 000 breeders with 520 000 animals.
As a part of a comprehensive business plan, approved by the members of Stud Book, services were expanded from January 2012 to include production recording and genetic evaluations as part of Stud Book's services.
SA Stud Book's Mission

The mission of SA Stud Book is to be a significant role player in the genetic improvement of animals in South Africa, while its vision is to develop exceptional domestic animals and establish them as a sustainable resource and treasure for all South Africans.
SA Stud Book's mission and vision are realised through its core business, namely:
the registration and recording of the birth and ownership information of purebred animals,
the continuous updating of these animals' pedigree information,
the recording of production data,
the processing of the integrated pedigree and production data into genetic analyses.
SA Stud Book has its offices in Bloemfontein and its business is handled by a general manager and four divisional managers. The five divisions of SA Stud Book comprise:
Data recording services
Production recording
Information technology
Finance and administration
Genomic and advisory services
SA Stud Book Association is registered as a Registering Authority under the Animal Improvement Act 1998 (Act 62 of 1998) and consist of 63 breeders' societies, being the members of SA Stud Book. These include 26 cattle, 15 small stock and 16 horse breeders' societies, as well as six breeders' societies for other species. These breeders' societies represent the interests of 77 different animal breeds. Apart from these breeds, SA Stud Book also handles the registrations of 29 other breeds, namely direct entry breeds: minor breeds that do not have a breeders' society.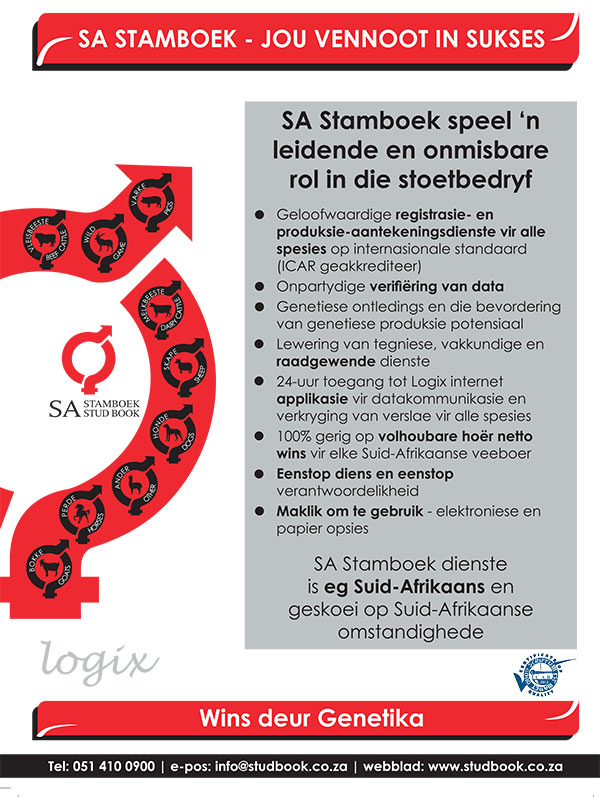 Enquiries?    info@studbook.co.za
More at www.studbook.co.za